Road Restriction Rescinded
Rural Municipality of Canwood is no longer subject to Spring Road Restrictions effective Monday May 9, 2022 at 12:01 AM.
The assessment roll (a list of all assessable property) is now open to inspection at the municipal office during office hours until Monday, May 16, 2022. All assessed property owners can review the assessment roll to make sure that the information about their property is accurate. Notices were mailed only to owners whose property assessment changed from last year. Detailed Property Reports can be accessed on SAMAView or can be obtained from the municipal office.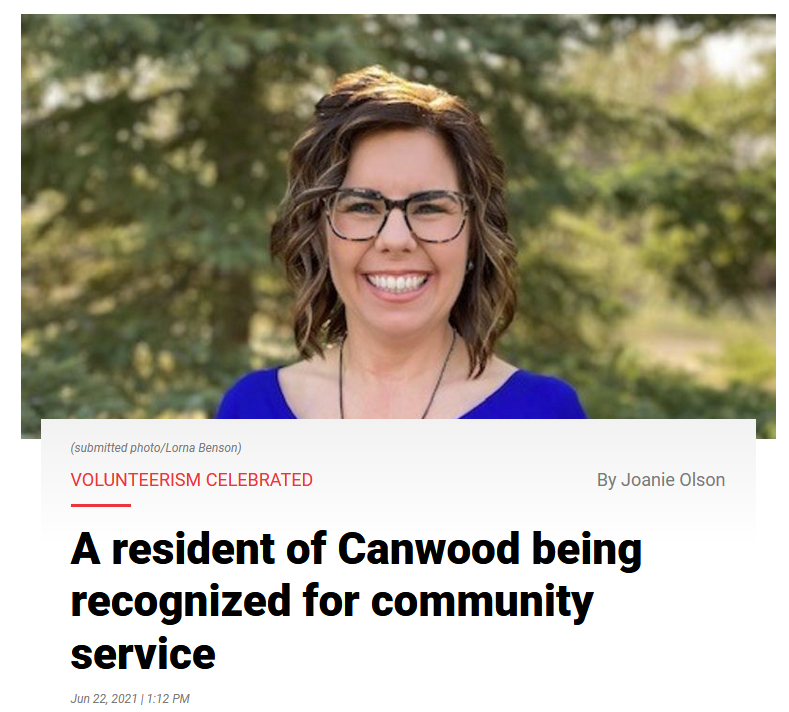 A local community member from Canwood is one of the 26 residents who has been honored with the Sovereign's Medal for Volunteers, presented by the office of the Lieutenant Governor of Saskatchewan.
Lorna Benson was taken aback when she found out she was not only nominated but had been chosen for the Medal.
"Volunteering is a way for me to give back to the community and the province. I have lived in Saskatchewan my whole life. I have deep roots here and I believe that giving back to the communities that help us raise our families and support us in our work and family lives is really important," said Benson.
One of Lorna's big volunteering tasks is as the coordinator for the first responders.
2021 Livestock Water Sample Collection Sites
The R.M of Canwood will be a collection site on June 15, July 13 and August 24.
With widespread water quality concerns, the Ministry of Agriculture's livestock and feed extension specialists are working to make water testing more accessible to livestock producers in Saskatchewan. Submit your livestock water samples to the location and on the dates listed below. You can also submit samples anytime, at your local regional or SCIC office. *See attached PDF for collection instructions.
A livestock and feed extension specialist will contact you to review the results.
Dates for 2021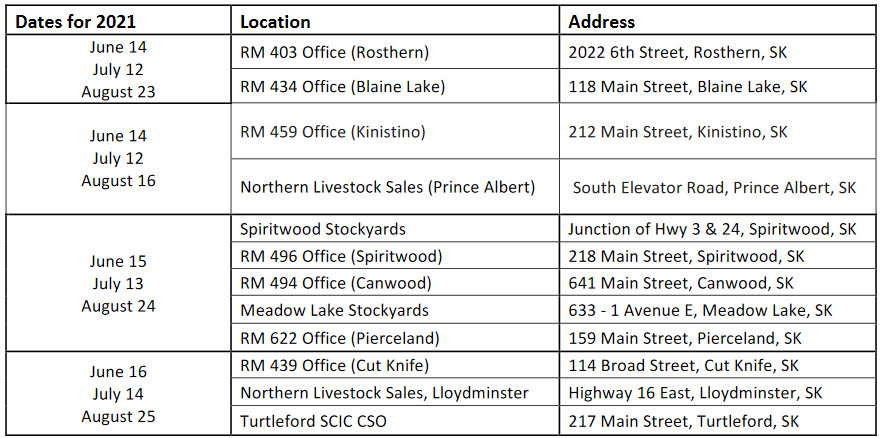 Are you willing to be responsible for someone's life?
The destruction of R.M. signs, roads and property is considered mischief, and the removal or theft of signs constitutes theft under $5,000.00.
Both are CRIMINAL CHARGES.
R.M. Signs and R.M. Property
The destruction of R.M. signs and roads is considered mischief, and the removal or theft of signs constitutes theft under $5,000.00. Both are CRIMINAL CHARGES.
We are asking for the PUBLIC's assistance to report known incidences of such matters to police at 306-747-2606 in Shellbrook, 306-469-2590 in Big River, 306-883-4210 in Spiritwood or Crime Stoppers at 1-800-222-TIPS (8477). If the matter is time sensitive or requires immediate attention, please call 911.
Traffic signs are used to notify drivers. Signs such as STOP, YIELD, DEAD END or CURVE help drivers prepare for what is ahead. They are a tool to make our roadways safer. When these signs are stolen or destroyed, drivers have no notification of what is ahead, making drivers a danger to themselves as well as others on the roadways.
The maintenance of roads and signs is very costly to R.M. property owners. BUT more importantly the R.M. signs are used by emergency personnel (Fire, First Responders, Ambulances and Police) to get to people who are in emergent need of medical or safety assistance. The absence of these signs increases the arrival time of emergency personnel and could mean LIFE OR DEATH.