The R.M. Maps
have arrived and are now available for sale
from the RM Office.
HELP International
Center for Ecology Research and Training & Shelterbelt Center
October 15, 2018
Spring 2019 Subsidized Shelterbelt Program Announcement!HELP International now taking orders for Spring 2019 Delivery for shelterbelts and environmental programming:
Minimum global order of 50 trees to qualify! Available for landowners, towns, RMs, Schools and environmental groups! Trees available for shelterbelts, habitat creation, stream margin buffers, parks, landfill tree caps, salinity control around lagoons, and effluent irrigation woodlots.
Order Trees for 2019 Spring Planting Now for Pick up and Shipping: May 24 to June 7, 2019
Sask Emergency Alerts App
http://emergencyalert.saskatchewan.ca/
Install the app for your device to be alerted to local emergencies.
Grain Bag Recycling – Collection Site Requirements
Last Update: November, 2017
Help farmers in your area recycle grain bags
A province-wide grain bag recycling program is scheduled to start in 2018 and Cleanfarms is in the initial stages of recruiting municipalities and private facilities to act as collection sites.
Interested? Here is what you need to do:  Read More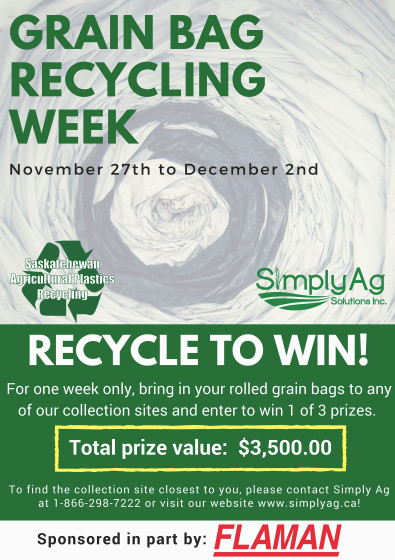 The destruction of R.M. signs and roads is considered mischief, and the removal or theft of signs constitutes theft under $5,000.00. Both are CRIMINAL CHARGES.
We are asking for the PUBLIC's assistance to report known incidences of such matters to police at 306-747-2606 in Shellbrook, 306-469-2590 in Big River, 306-883-4210 in Spiritwood or Crime Stoppers at 1-800-222-TIPS (8477). If the matter is time sensitive or requires immediate attention, please call 911.
Traffic signs are used to notify drivers. Signs such as STOP, YIELD, DEAD END or CURVE help drivers prepare for what is ahead. They are a tool to make our roadways safer. When these signs are stolen or destroyed, drivers have no notification of what is ahead, making drivers a danger to themselves as well as others on the roadways.
The maintenance of roads and signs is very costly to R.M. property owners. BUT more importantly the R.M. signs are used by emergency personnel (Fire, First Responders, Ambulances and Police) to get to people who are in emergent need of medical or safety assistance. The absence of these signs increases the arrival time of emergency personnel and could mean LIFE OR DEATH.