Council Meeting – April 20th, 2021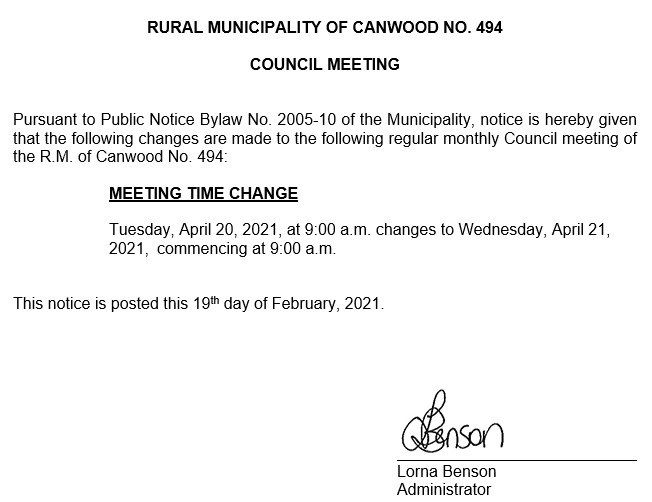 Spring Weight Restrictions
The R.M. of Canwood will be subject to Spring Road Restrictions beginning Friday, March 26, 2021, at 12:01 AM. Please see the attached Maximum Gross Weight during Spring Road Bans (restrictions) Table.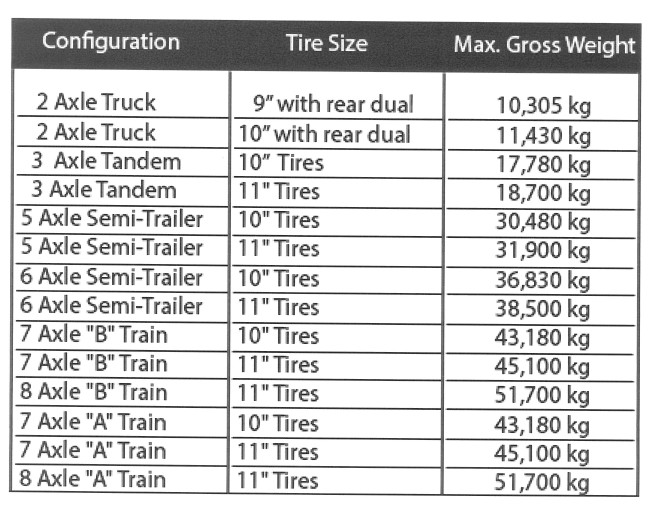 Bursary Application Form 2021
Sign Theft and Road Destruction
The R.M. of Canwood No. 494 is asking for the public's assistance to report known incidents of the destruction or theft of R.M. signs and roadways during the summer of 2020. Numerous signs have been stolen or vandalized in the general area north and east of Canwood. Destructive driving resulting in deep ruts in the roadways has been reported throughout the municipality. If you notice a sign that is missing or damage that has been done to the road that could cause danger to motorists on our roadways, please contact the Municipal Office. If you witness theft or vandalism in these events or have information on a theft or vandalism, you can report these offenses to the police at 310-RCMP(7267) or if you wish to remain anonymous, call Crime Stoppers at 1-800-222-TIPS (8477).
The R.M. of Canwood will pay up to $1,000.00 for information that leads to the arrest, charge, and conviction of persons for Theft, Possession of Stolen Property or Mischief in relation to the theft and destruction of R.M. signs and roadways.
Are you willing to be responsible for someone's life?
The destruction of R.M. signs, roads and property is considered mischief, and the removal or theft of signs constitutes theft under $5,000.00.
Both are CRIMINAL CHARGES.
The R.M. Maps
have arrived and are now available for sale
from the RM Office.
Sask Emergency Alerts App
http://emergencyalert.saskatchewan.ca/
Install the app for your device to be alerted to local emergencies.
Welcome
We are a progressive municipality which serves a population of 1,381 people (2016 census) and includes 27 townships with a strong agricultural base.  Our boundaries begin approximately 50 km northwest of the City of Prince Albert. The Rural Municipality of Canwood No. 494 was initially incorporated as The Rural Municipality of Thompson in 1913.  The name was changed from Thompson to Canwood on May 1, 1916.
We border the Prince Albert National Park and are surrounded by many beautiful lakes. The Canwood Provincial Forest is in the southeast of the municipality, and the Big River Forest is in the northwest part of the municipality.
There are two urban centres within our municipality, the Village of Canwood and the Village of Debden. The municipal office is located in the Village of Canwood. Canwood offers a full range of services including a Pre-K to Grade 12 Public School, regional library, curling rink, skating rink, health clinic and pharmacy, special care home, and a beautiful Regional Park (Canwood) which offers a 9-hole golf course with grass greens and watered fairways.
The Village of Debden offers a dual stream school, offering French Immersion from K to Grade 8 and ELA at Grade 9-12 levels as well as the regular English Program at all grades. Debden has a regional library, curling rink, skating rink, health clinic, and a private care home. There is a beautiful Regional Park (Morin Lake) within 15 minutes of Debden for camping, fishing and swimming lessons.
At the beginning of the millennium, discussions started to take place about the future of landfills because many of the local landfills were being closed. A Committee was formed Sept 4, 2002, to undertake the responsibilities of managing the details of this large project to be known as  Highway 55 Waste Management Corporation. Highway 55 WMC is a para-municipal Corporation owned by the R.M. of Canwood No. 494 (60%), Village of Canwood (20%), and Village of Debden (20%) and is managed by a Board of Directors which includes equal representation from these municipalities. (see the link to their website)
See Recent Posts and Archives Below