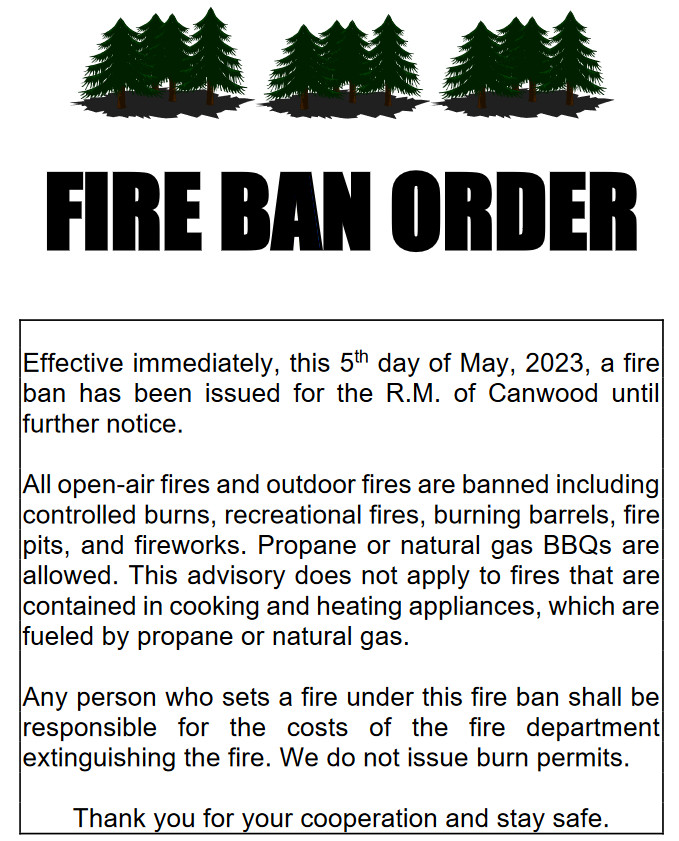 Effective immediately, this 5th day of May, 2023, a fire ban has been issued for the R.M. of Canwood and Prince Albert Park until further notice.
Prince Albert National Park
Prince Albert National Park is now under a fire ban until further notice. The park is currently experiencing extreme fire conditions because of the hot, dry weather and winds. We expect the fire ban to remain in place for the duration of the upcoming May Long Weekend.
The ban is currently posted to the Important Bulletins page on the website and will shortly be posted to social media. Please share these with friends and family as this is the most up-to-date information and will be updated as needed, including when the fire ban is lifted. The fire ban notice and other signs will also be posted physically in the park.
I recognize that the fire ban and current fire conditions may be stressful for some and the current wildfires in western Canada may even affect some of you personally. The safety of people, infrastructure and neighbouring lands is our priority, which is why we have put this ban into effect.
If you have any questions or would like more information, contact:
Daisy Ramsden (she/her, elle)
Fire Information Officer/Agente de communications sur le feu
Prince Albert National Park / Parc national de Prince Albert
Parks Canada / Parcs Canada
Box 100 / C.P. 100
Waskesiu Lake, SK S0J 2YO
306 914 6289
Parks Canada – 450 000 km2 of memories / Parcs Canada – 450 000 km2 de souvenirs